Story
SheDecides: Making 'herstory'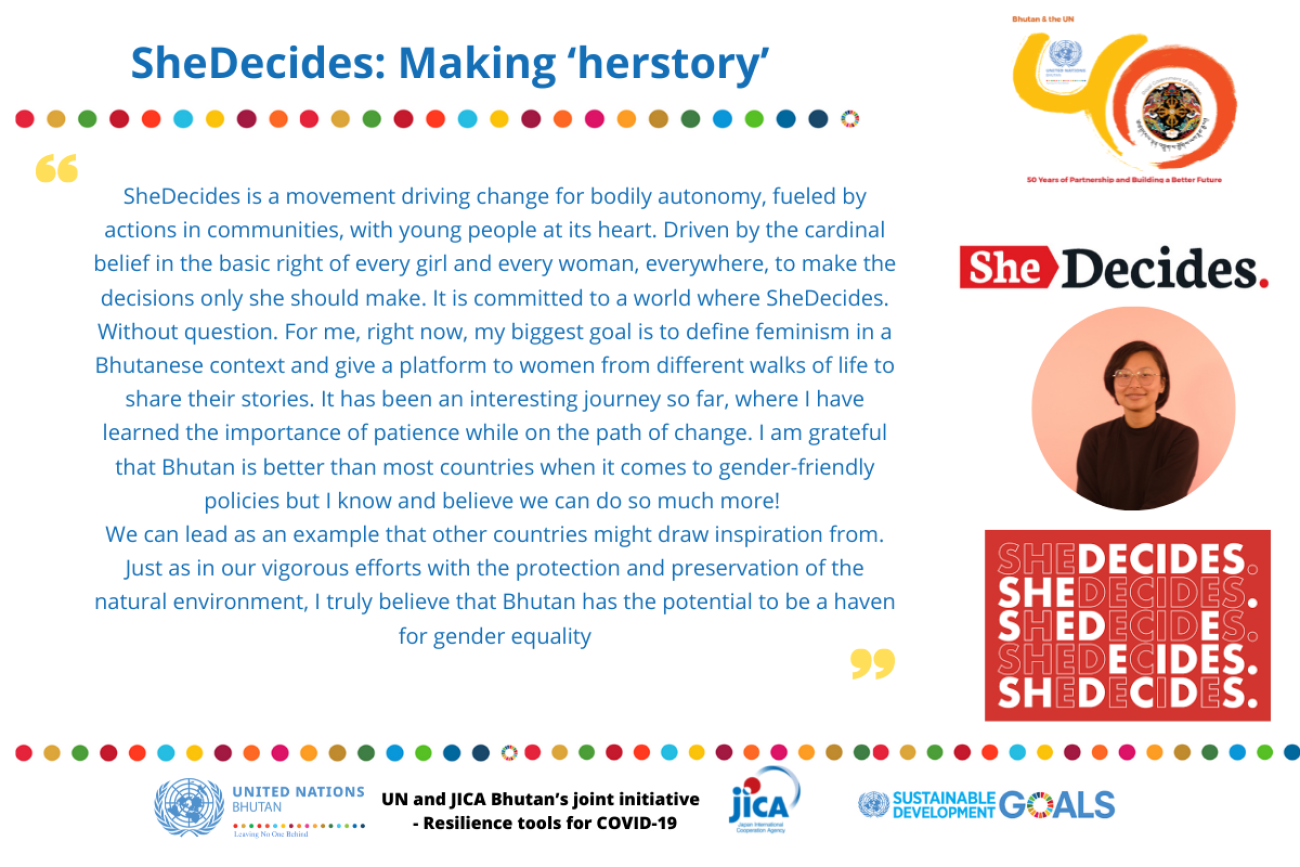 UN and JICA Bhutan's joint initiative - Resilience tools for COVID-19
There are some who live for the spotlight and then there are those who live to share that spotlight with others. Yangday La, an ebullient, bright and energetic 27-year-old creative, lives her life in both these worlds as someone who the spotlight loves as an actress, TV host and radio jockey while choosing to share it with those who deserve it the most and particularly with the issues that matter deeply to her. Yangday, as sure as she is that her favourite food is Druk Pizza with a dash of extra "ezey", remains assured of her unrelenting pursuit of her passions and dreams. When asked to describe herself in five words, with a gentle smile and without hesitation Yangday said a "daughter of a strong mother."
Evident in her dedication to all her passions, she has imbued her sense of enthusiasm and gusto for life in all her work. Throughout her life, Yangday has worn many hats and stepped into many dynamic roles. Whether the role of country coordinator for 'Design for Change' in 2018 that focused on empowering young voices or sharing a leading role with three other vibrant ladies in the recently released feature film 'Gangnam Girls' - a story revolving around the complexities of womanhood and relationships. Yangday has taken every opportunity to contribute to her community promoting positivity among youth through talk shows, radio shows and even conducting workshops and presentations in high schools on safe sex, stress management and redefining gender,  
"Growing up I was blessed to have been surrounded and influenced by so many strong, inspirational women and while I am still figuring out what it truly means to be a woman in this modern world, I am grateful for these great women for instilling in me my drive, independence and curiosity towards life. It's never been an easy road, then again, easy can also mean boring. Life, like any good movie worth watching, sometimes needs a little bit of drama and chaos!" grinned Yangday.
The definition of feminism in the 21st century is one that is often debated, discussed and not universally agreed upon. Yangday bypasses this and defines it by its simplest roots - a woman decides. Without question and without debate, she decides. 'SheDecides' is a global political movement united in the vision to build a world where each and every girl and woman has the power to decide what to do with her body, her life and her future. After being selected by the international SheDecides organisation in 2019, Yangday leads the SheDecides movement in Bhutan. Most recently, she released the theme song for 'SheDecides Bhutan' with a moving video tribute to the Bhutanese women, celebrating their dreams and aspirations and showcasing all the different roles they hold in uplifting our community and reminding them that they have the power to achieve any dream,
"SheDecides is a movement driving change for bodily autonomy, fueled by actions in communities, with young people at its heart. Driven by the cardinal belief in the basic right of every girl and every woman, everywhere, to make the decisions only she should make. It is committed to a world where SheDecides. Without question. For me, right now, my biggest goal is to define feminism in a Bhutanese context and give a platform to women from different walks of life to share their stories. It has been an interesting journey so far, where I have learned the importance of patience while on the path of change.  I am grateful that Bhutan is better than most countries when it comes to gender-friendly policies but I know and believe we can do so much more! We can lead as an example that other countries might draw inspiration from. Just as in our vigorous efforts with the protection and preservation of the natural environment, I truly believe that Bhutan has the potential to be a haven for gender equality" Yangday enthused.
Unwavering in her pursuit to uplift her fellow Bhutanese sisters, especiall in the midst of the global pandemic, at the end of 2020 Yangday embarked upon her passion project with her team creating a book of stories from the women of Bhutan called '108 Stories'. The number is propitious in some major religious traditions and seem to lend her mission almost a spiritual purpose. During the pandemic, she navigates her work through Zoom calls and social media platforms, never losing steam nor a sense of direction,
"Personally, the most powerful way to change minds and perceptions is to do so through storytelling. Not only does it have the power to inspire but it has the potential to move mountains and change the world. I have always seen life as a collection of stories. Everyone has a story to tell and some need to be shared. This book will be for women, by women, and of women and will hold powerful stories that have the potential to inspire children and change mindsets around gender roles and identity in Bhutan. The 108-book project isn't work for me but is my dream. I have been working on this for a year now and no matter how long it may take, I am ready to dedicate my life to compiling stories of these real and inspiring Bhutanese women" a determined Yangday shared. The global pandemic has shown humankind at its worst and also at its best, through the ashes the phoenix of resilience arises in us all,
"The world continues to see the effects of the pandemic and a lot of existing issues got even more complicated. We can only hope to come out to it stronger and wiser. It is not now that we should falter but instead bolster our spirits and resolve to continue on with the good fight for all the dreams we had and continue to have. We are blessed to be born in a country like Bhutan, with such a rich culture and holistic traditions where modernity thrives with ancient traditions under enlightened Monarchs. I bow down to Kencho-sum in gratitude and pray for the wellbeing of this world. We have much to do and as Mr. Frost once said, miles to go before we sleep. Let us do what we can with what we have and the time we have" Yangday articulated.
"If we treat each other with respect, and more often wear a smile, remembering this special dash, might only last a little while, So, when your eulogy is being read, with your life's actions to rehash…Would you be proud of the things they say-- about how you spent your dash?" – An excerpt from 'The Dash' by Linda Ellis, a poem that Yangday shared sums ups her life philosophy. 
Article contributed by Jetsuen Wangmo for the UN/JICA We Care We Share Initiative
UN entities involved in this initiative
RCO
United Nations Resident Coordinator Office
Other entities involved in this initiative
JICA
Japan International Cooperation Agency
Goals we are supporting through this initiative