About the UN in Bhutan
The United Nations (UN) is an international organization founded in 1945. Currently made up of 193 Member States, the mission and work of the United Nations are guided by the purposes and principles contained in its founding Charter.
On September 21, 1971, the Royal Government of Bhutan became the 128th member of the United Nations. The Office of the United Nations in Bhutan was established in early 1974. Since then, the country has been home to many UN agencies, funds and programmes that together support the Government in delivering national development needs and improving the socio-economic conditions of the people of Bhutan.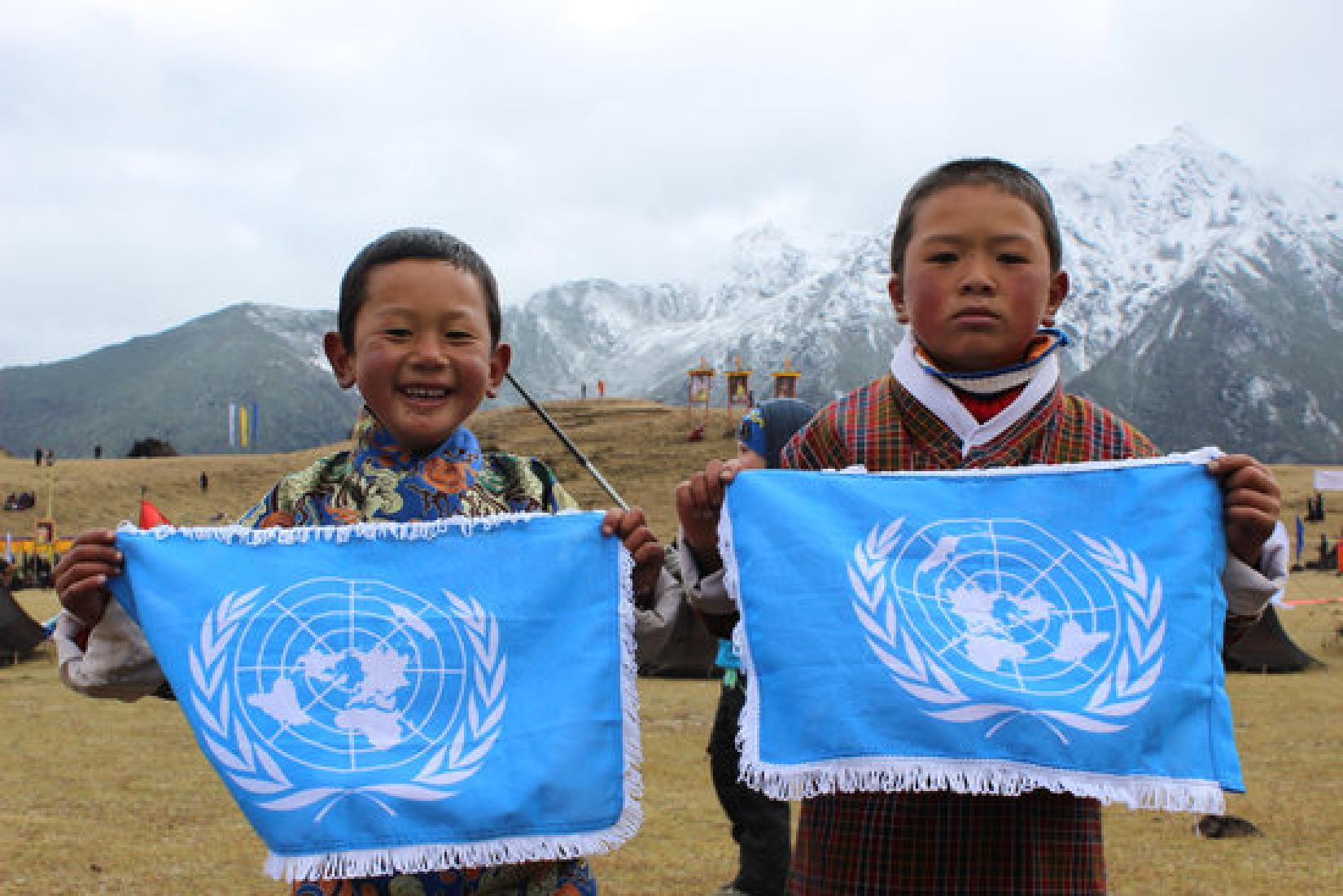 The overall goal of the United Nations' support to Bhutan from 2019 to 2023 is to support "A Just, harmonious and sustainable Bhutan where no one is left behind". Based on a theory of change, the UN aims to mobilize and invest an estimated USD 120 million to achieve results in four outcome areas, by 2023.
These four outcomes will help implement the 2030 Agenda in Bhutan, as part of a universal action to leave no one behind, end poverty in all its forms and dimensions, and heal and secure our planet. The UN contributions are building on Bhutan's international human rights commitments. 
Milestones
1
Enhanced access to and use of reliable and timely data for inclusive and evidence-based policy and decision making. Total Planned Budget: USD 5,260,000
2
Vulnerable and unreached people access and receive quality health, nutrition, protection, education, water, sanitation and hygiene services. Total Planned Budget: USD 34,821,656
3
National stakeholders strengthened to provide equal opportunities for all, particularly women, and vulnerable groups. Total Planned Budget: USD 9,781,101
4
Bhutan's communities and its economy are more resilient to climate-induced and other disasters and biodiversity loss as well as economic vulnerability. Total Planned Budget: USD 71,016,800
The Sustainable Development Goals in Bhutan
The Sustainable Development Goals are a global call to action to end poverty, protect the earth's environment and climate, and ensure that people everywhere can enjoy peace and prosperity. These are the goals the UN is working on in Bhutan: