Story
Guidance for our Guardians: Training in Resilience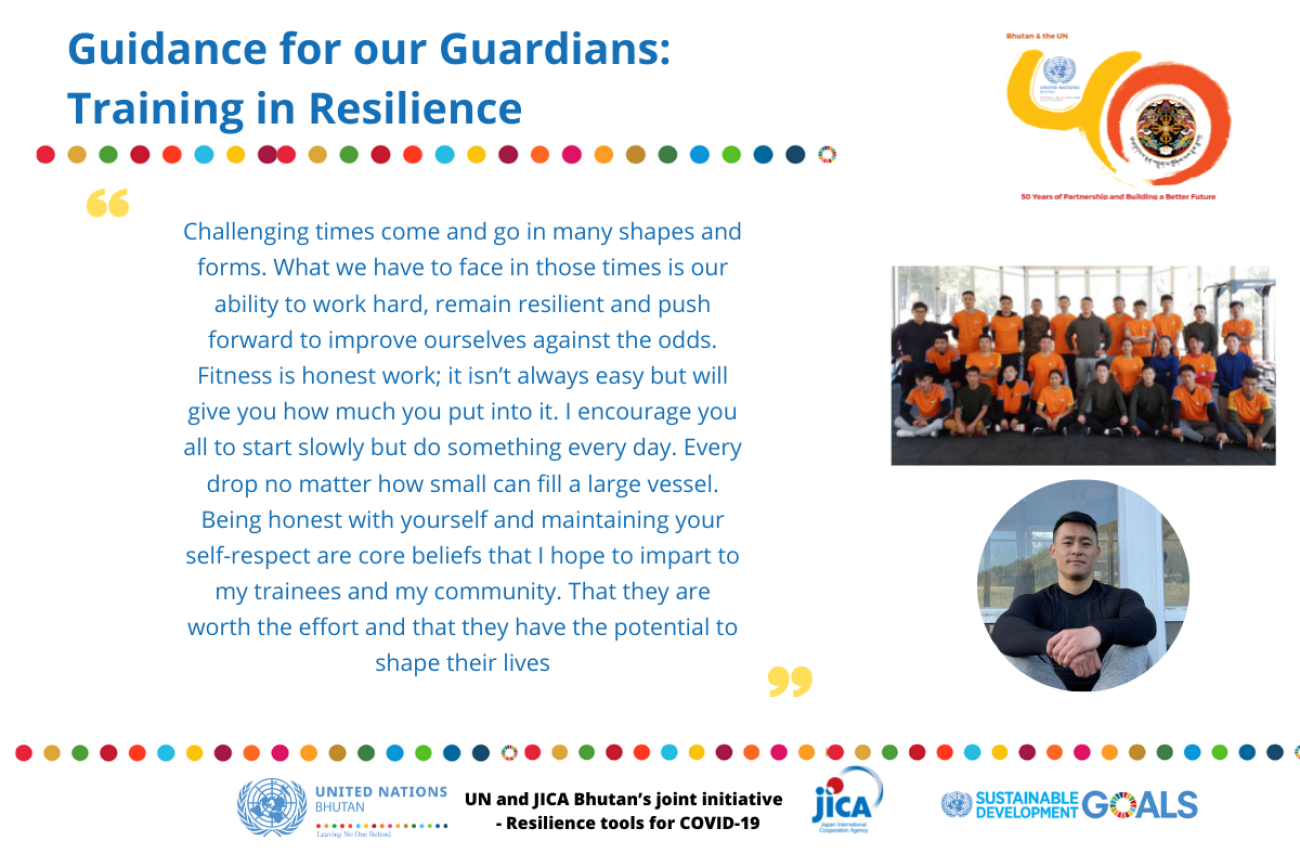 We Care, We Share
UN and JICA Bhutan's joint initiative - Resilience tools for COVID-19
"It is a shame for a man to grow old without seeing the beauty and strength of which his body is capable." – Socrates
"Fitness isn't just numbers and weights –it's a way of life. A way to survive and thrive. It means everything to me. I use it in all facets of my life whether I'm walking to my car, taking the stairs or cooking a healthy balanced meal. Fitness is a part of everything I do, and I dedicate myself fully to it, with all my heart" shared 35-year-old Tshewang Penjor, a fitness enthusiast confident and relaxed in his dedication to health and wellness.
Raised in resiliency, Penjor grew up in a military family which instilled in him at a very young age a deep sense of respect towards physical fitness and the power it has to change and shape the person you become,
"My fitness journey started when I was little, I would always curiously observe my father with his training which was very intense both physically and mentally. I remember through the strain, I saw his dedication and wished to embody this same strength. As far back as I remember I was aware of the uncertainty of the future, so I decided to focus on the one thing I knew I could control: my body and fitness. It was and still is hard work, challenging yet fulfilling both mentally and physically every day. There are very human moments when I feel like giving up but time and time again, I find myself gritting my teeth and continuing on this journey. Not because I have realized something new but instead, I rediscover in me the flame that started in my heart many years ago. That I am that same determined and curious kid working hard to make his own destiny" Penjor reflected smiling.
Fitness is a bridge. A bridge that can help us connect with others or a bridge that connects us to a better version of who we are. Pursuing ardently both his dream of creating a space where fitness can not only help strengthen physical well-being but mental fortitude and self-esteem, fitness is not just a part of Penjor's life but something he breathes in day in and day out,
"It was a dream I always had- to motivate others through fitness.  Realising how it positively impacted me, I wanted to share its importance to as many people as I could. Opening my gym 'Paro Fitness Centre' became my way to spread this transformative knowledge and channel my enthusiasm to others. Since the beginning of time, physical well-being was a part of human survival. Thousands of years ago, it was an integral part of the life of our ancestors who used it to hunt and gather. As time progressed technology has made life easier, pushing us to make fitness a personal pursuit that we must maintain so we can live a well-rounded life. My humble wish is to give everyone the opportunity and tools to succeed in their own personal fitness journey" Penjor said warmly.
Continuing in his passion to pass on this torch of fitness and wellness, Penjor with his team launched the Guardian Performance Training (GPT) program in October of this year. The GPT program focuses on training the Guardians of Peace, our Desuups in becoming future trainers themselves, currently guiding thirty dedicated and hardworking trainees. The GPT was part of the innovative initiative called the Integrated Fitness Desuung Skilling Program (DSP). The DSP initiative is His Majesty the King's gift to all the Desuups, enabling them to pursue their passions and secure their future,
"We are so honoured to be part of this important goal and the great vision of His Majesty the King. GPT focuses on giving foundational and functional fitness to the Desuups, as well as teaching them how to give it to their future students. A few close friends in my corner were instrumental in guiding me in creating this program and they have my deep appreciation. This opportunity has given me a great sense of duty, pride and honor to contribute in such a positive manner to my community. GPT focuses on strength, speed, agility and endurance, and comprises many cross-training, callisthenic and plyometric exercises, with free weights as well as with only bodyweight. What makes our program unique is that we want to make well-balanced trainers and athletes. We are not only building the Desuup's strength and physical fitness but also moulding their character and resilience" beamed Penjor.
The relentless marathon that has been the global Covid-19 pandemic has fatigued and disrupted all aspects of life, from businesses to individuals. Despite this Penjor remains undeterred— motivated to spread his knowledge of wellness and share his passion for fitness to those who are interested or looking to start.  
"The ongoing pandemic brought widespread shutdowns creating inactive lifestyles, negatively impacting society's physical and mental health. Seeing this plight did not dissuade me but instead drove me to create programs that combat these problems. The effects of the global pandemic were felt far and wide, many Desuups were affected and so through the GPT program, we hope we can skill up their talents and give empower them to thrive in their lives. My own personal life as well as my gym faced struggles during the pandemic. With the help of His Majesty's generous Relief Kidu, I was able to persevere and in my eternal gratitude, I wish to pay it forward by sharing easy diet plans and workout routines on my social media to help my community stay independent and in control of their physical health and wellbeing" shared Penjor.
"Challenging times come and go in many shapes and forms. What we have to face in those times is our ability to work hard, remain resilient and push forward to improve ourselves against the odds. Fitness is honest work; it isn't always easy but will give you how much you put into it. I encourage you all to start slowly but do something every day. Every drop no matter how small can fill a large vessel. Being honest with yourself and maintaining your self-respect are core beliefs that I hope to impart to my trainees and my community. That they are worth the effort and that they have the potential to shape their lives"
Penjor echoes the advice of His Majesty the King, that it is not a question of whether you can do a task, rather it is a matter of the will to do it.
Article contributed by Jetsuen Wangmo for the UN/JICA We Care We Share Initiative
UN entities involved in this initiative
RCO
United Nations Resident Coordinator Office
Other entities involved in this initiative
JICA
Japan International Cooperation Agency
Goals we are supporting through this initiative